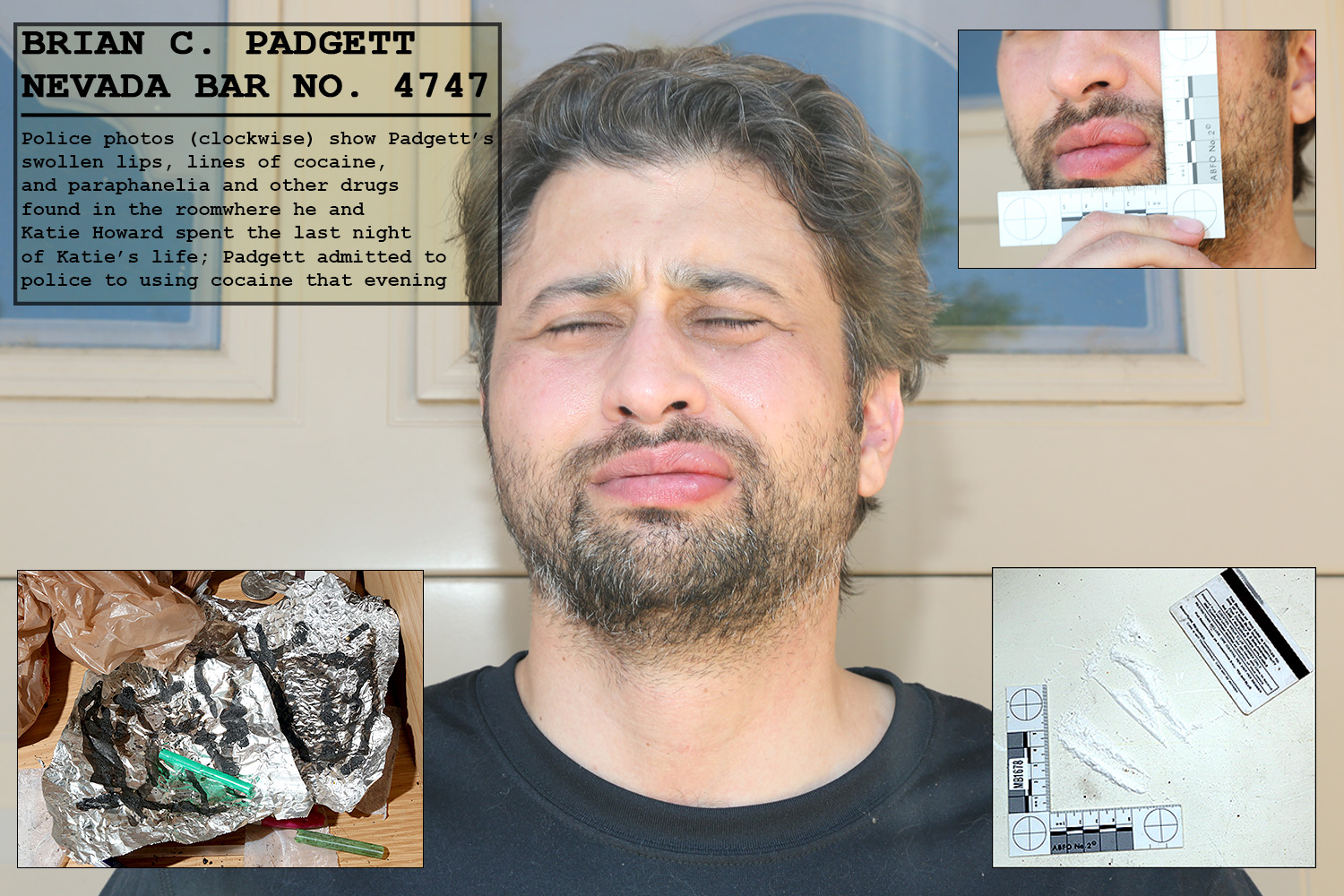 Above is a montage of photos from the publicly accessible Henderson Police Department incident file on the night Katie Howard, 38, died. Click on the image to see full-size.
---
After watching Brian Padgett, Nevada Bar No. 7474, make promises, commit fraud to borrow money, and try to get a marijuana business up and running using other people's investment money — nevermind the fact that there was a TRO (Temporary Restraining Order) in place as a result of ongoing litigation before a judge for CWNevada (Padgett's marijuana business), which he completely ignored and did not inform investors of — coupled with the recently discovered details surrounding his involvement with a 38-year-old woman on the night of her death … it all has led me to believe that Padgett is a narcissistic sociopath.
My conclusion that Brian Padgett, Bar No. 7474, is a narcissistic sociopath is my opinion. I am not a doctor, I don't have an MD, PhD or any sort of advanced degree – that simply is my opinion. You can judge for yourself after you read the details of Brian Padgett's background.
In addition to ripping me off, he also did the same to a 69-year-old and 75-year-old — both investors in his marijuana business. Under the letter of the law in the state of Nevada, at least as I see it, that constitutes elder abuse. He's clearly taken advantage of me, which is on me, but he's also swindled, in my opinion, money out of two senior citizens, which carries legal consequences.
My research into Brian Padgett, Bar No. 7474 has led me into some very deep, dark, scary places. One of those places was the darkest. It involved death – the tragic death of Katie Howard, a 38-year-old woman, that came about after a night of partying and using cocaine, which he admits doing, to the Henderson Police Department (HPD). It is indeed devastating and heart-breaking. However, that evening, all Padgett seemed to be concerned with, in my opinion, was himself, not the tragic end of the life of a very pretty, relatively young 38-year-old Katie Howard.
At one point during a somewhat confusing and botched 911 call, Brian C. Padget, Nevada Bar No. 7474, can clearly be heard in the phone conversation offering $100,000 to Thomas Wiggins, one of Katie's roommates, allegedly to get rid of Katie's dead body. Brian denies that.
Seen below in this post are a series of photos taken of Brian Padgett, Bar No. 7474, after he had driven around for several hours following Katie's death, which had yet to be reported to police, in his now-reposessed BMW X5, that indicate what a truly tragic night unfolded.
The focus of these images are of Brian Padgett and his lips. from a layman's point of view — me being the layman — I would come to the conclusion that these are burn blisters. Perhaps made by smoking heroin (which also was found in the room that evening) — that's my opinion. Again, I have no medical training — I'm just using my common sense and analysis of the facts of the police report.
While being questioned by HPD during their interview of him at the house where Katie died, when pressed, Brian Padgett admitted to using cocaine. According to the DEA, cocaine is a Schedule II drug; Schedule II drugs, substances, or chemicals are defined as drugs with a high potential for abuse, with use potentially leading to severe psychological or physical dependence. These drugs are also considered dangerous and illegal throughout the U.S. People can face criminal charges in Nevada simply for possessing cocaine. As with most narcotic offenses, cocaine crimes are charged as felonies in Nevada. Possession for personal use is a Category E felony. A person convicted of using cocaine in Nevada can be subject to one to four years in Nevada State Prison, and up to $5,000 (at the court's discretion).
Things get more serious and sentencing goes up from there if a person is convicted in Nevada of selling, importing, trading, transporting, dispensing, giving away, administering, or manufacturing cocaine. A person could be sentenced to one to six years in prison, and get hit with a fine of up to $20,000.
The photos shown above and in greater detail below, show a crime scene, I believe, even though no one was actually charged with a crime on the day of Katie Howard's death, June 25, 2017. After all, the DEA clearly outlines cocaine as in illegal drug. In a recorded police interview, Brian Padgett, Bar No. 7474, clearly admits to the use of cocaine. I'm just wondering why Padgett was never charged for anything related to this day of death.