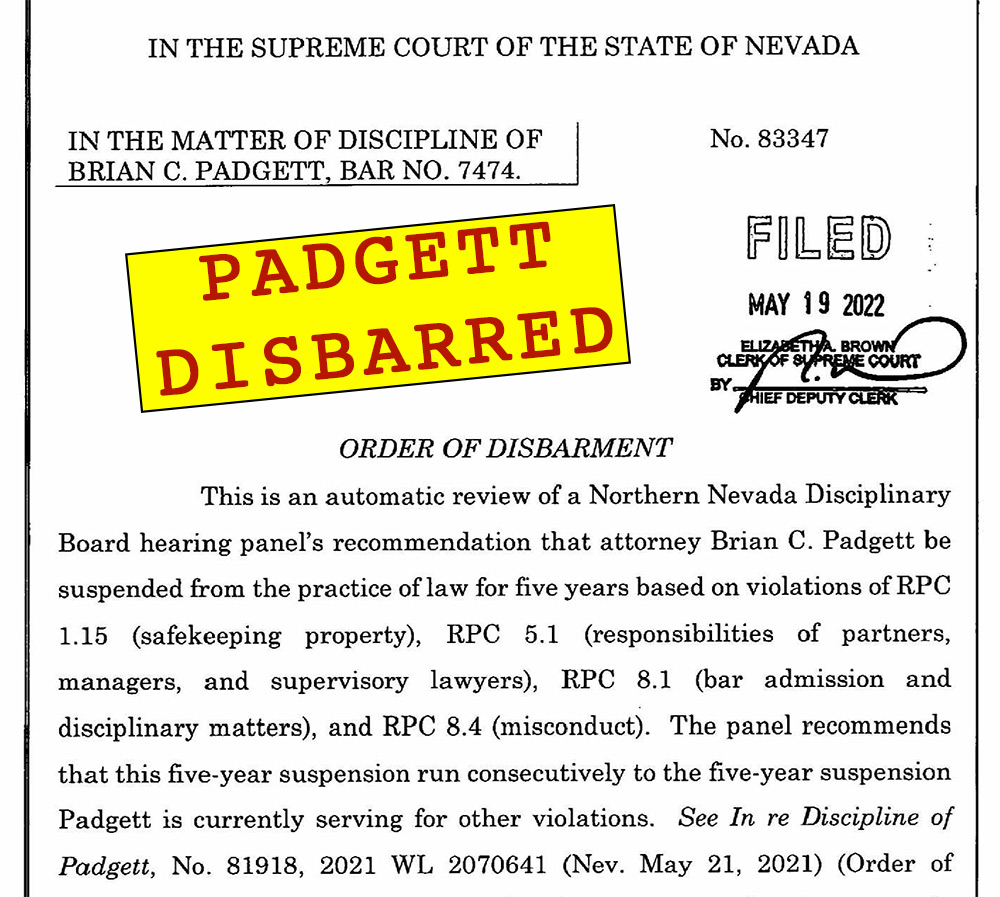 The time of reckoning has come for Brian C. Padgett, Las Vegas attorney.
In an order of disbarment (Padgett Disbarred.pdf) handed down by the Supreme Court of the State of Nevada, the Court upheld the recommended five-year suspension to run consecutive with a previous five-year suspension already handed down. This effectively ends Padgett's career as a Nevada attorney, barring some miraculous "Hail Mary" comeback efforts.
The state's high Court cited violations of RPC (Nevada Rules of Professional Conduct) including RPC 1.15 (safekeeping prooperty), RPC 5.1 (responsibilities of partners, managers and supervisory lawyers), RPC 8.1 (bar admission and disciplinary matters), and RPC 8.4 (misconduct).
Chief Justice of the Supreme Court Ronald David "Ron" Parraguirre, wrote in the order of disbarment:
"The panel found, and the record supports, eight aggravating circumstances (prior disciplinary offenses, dishonest of selfish motive, a pattern of misconduct, multiple offenses, bad faith obstruction of the disciplinary proceeding by intentionally failing to comply with rules or orders, refusal to acknowledge the wrongful nature of conduct, substantial experience in the practice of law, and indifference to making restitution) and no mitigating circumstances.

"Considering all the factors, especially the fact that Padgett is already serving a five-year suspension for other offenses, we conclude that the scope of Padgett's misconduct and the aggravating circumstances warrant an upward deviation from the baseline sanction. Accordingly, we disbar attorney Brian C. Padgett from the practice of law. Such disbarment is irrevocable."
Sums it up quite well, in our opinion.